Minding Motivation: A Game Changer Getting things Done
Thanks to the pandemic, many of us shifted our "business as usual" mindset. No – this isn't another COVID blog post, but the pandemic has forced us to change perspective on almost every obligation, responsibility, and goal quickly.
Channeling the right motivation allows us to be our most successful in accomplishing our goals. Motivation looks ahead in the future and invites fresh perspectives and the ability to make better choices. It provides the reasons to go in new directions, dig down, commit, and persevere to fully meet our goals. With the right motivation, we become better versions of ourselves, feeling fulfilled when we perform and deliver better outcomes. 
Motivation creates the desire to meet or exceed our expectations. If we want better health, we are motivated to exercise more and eat right. If we want to achieve professional excellence, we feel compelled to put in the work to obtain the education and skill sets needed. And being clear about what motivates us helps when we change or adopt new habits, such as improving our reading skills. 
Reading is likely second nature by the time you're arrived at this blog article. But the way you first learned to read – in elementary school –  is likely how you read now – so why change anything? If it ain't broke, don't fix it. You know the drill: letters become words which coalesce into sentences and paragraphs. If you want to improve your reading, then you need to be proactive. Taking and completing MindFlow like learning any new skill, requires drive, vision and motivation. What are yours? Likely each person reading this will have different goals they would like to meet and skills they want to improve. Our goals include users to improve reading quality and become more effective in how you 'work in the world.' 
MindFlow participants are driven by two different types of motivation:


1) Intrinsic motivation: Doing something for the inherent pleasure derived from it
2) Identified motivation: Doing something because it helps you achieve a quantifiable outcome
Those with intrinsic motivation want to effectively read faster to be time efficient. They also want to integrate the mindset tools to gain a better attitude. For them, MindFlow is proactive enrichment. They can tackle piles of books and reports for work, and inhale those best sellers piled up next in their reading nook. They also appreciate gaining tools to emotionally regulate their minds in difficult times. This all falls under the category of 'personal growth.'
Those with identified motivation are typically those preparing for admissions exams or tackling an increased reading load. MindFlow shaves time off reading itself to achieve a desired result, allowing test takers to gain more time for answering questions, as well as more time to complete assignments or time for other pursuits. They approach the mindset tools as game changers under the pressure of high stakes exams, admissions tests, or demanding academic programs.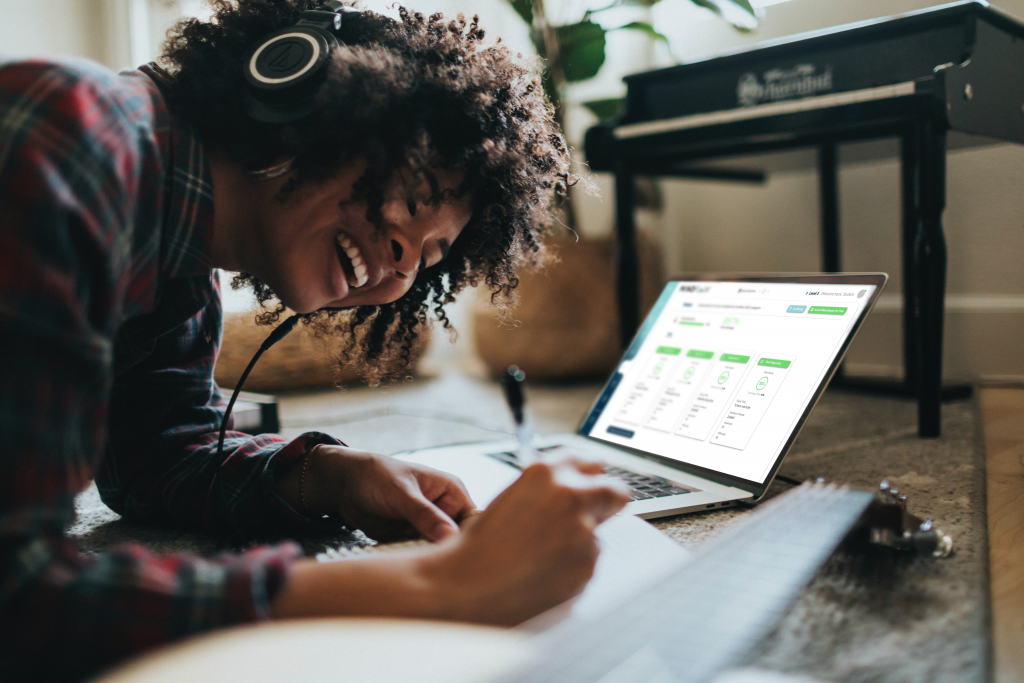 But is one more effective than the other to be successful on MindFlow and our daily lives? Research indicates that external rewards motivate people to a point, particularly over short periods of time. For those wanting increased test scores or some ease in their academic programs, the identified motivation works like a charm. With this kind of motivation, students witness how their increased reading speed improves performance, which becomes a catalyst for further study. Those with intrinsic motivation benefit beyond reading faster by gaining more ease around the reading they  need to complete. It becomes enrichment, a life hack, a tool they can utilize when they want or need. They also obtain some personal growth in the mindset training.
But why is reading faster attractive to so many people? To best understand MindFlow's impact on you, let's dig deeper to find out why you want to read faster. As discussed above, your "why" can fuel mini motivators and short term goals in alignment with your values and long term goals. Here are some clarifying questions to to consider, whether it's to read faster, feel more present, or amass more skills:
1)    How will reading faster help me this year, 5 years from now, or 10 years from now?
2)    How will embodying a more optimized mindset help me this year, 5 years from now or 10 years from now?
3)    How does MindFlow help me to live the life I want?
MindFlow is a simple but robust program that will help you read faster and score better on an upcoming test or make for more optimal study time. But when you consider why you take part in it, it becomes an opportunity to consider all the ways it will help you achieve your goals way beyond the test. And it can be the launchpad for other ways to reach your goals.
Adapt the above questions to consider your whys in other areas of your life: what does it look like now, what might it look like in the future, and how does this relate to the bigger picture of who you want to be and what you want your life to look like? Then With MindFlow, you can figure out what steps will get you there.