MindFlow improves your
students' performance

as you increase your

revenue 
MindFlow upgrades three major test-performance skills: reading speed, comprehension and mindset. For educators, these are the the 'wild card' aspects that need attention beyond the content mastery and test-taking strategy you teach your students. And for all of us who desire students to flourish, the platform helps with growth mindset and self-actualization.
This training complements services to help increase your students' test scores and academic performance combined with mindset skills, all which last a lifetime.
Contact us for a demo and/or sample account and to learn about purchasing MindFlow at a discounted rate for resale to your students, generating income for you.
FILL OUT THIS FORM IF
Interested in our discounted license or referral incentive program
NOTE: We look forward working with verified businesses, organizations, districts, schools and tutors who work with students. Our current offer is the opportunity to purchase of licenses at a discounted rate or to receive referral incentives. These are exclusively for professional use only. Each submission is checked and only verified professionals/businesses will gain access to this initiative.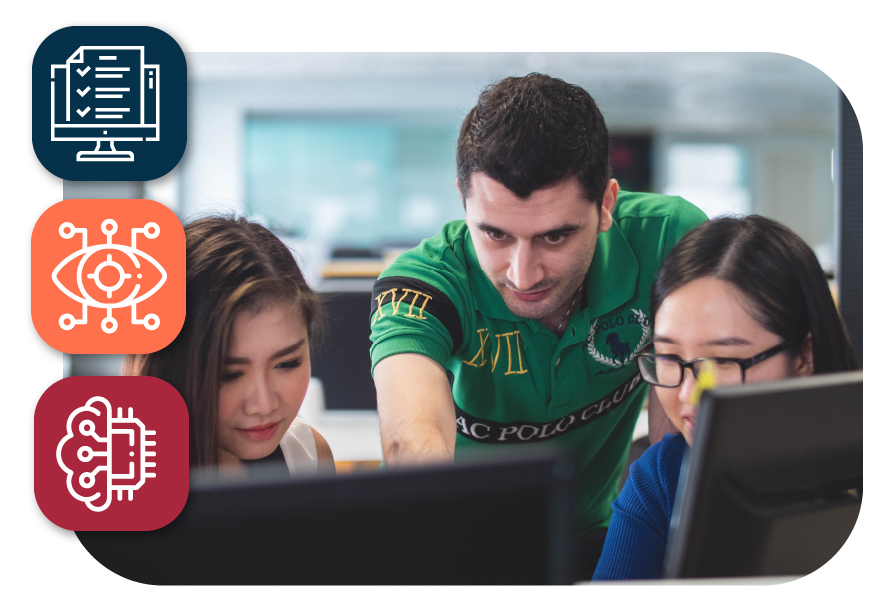 MindFlow is more than a speed reading tool
If your students are reading less than 300 words per minute, their exam performance and test scores could be compromised. Through detailed instructions and a gamified interface, MindFlow guides students from learning the techniques to putting them into practice. They will be able to read faster, understand more, and get a big sense of accomplishment.
When students are able to read faster and more effectively they gain time to think critically and answer more questions correctly. They won't feel rushed and will see immediate improvements, which incentivizes additional study. This active engagement and enthusiasm is what we want for all of our students: a constant sense of improvement that fosters a love of learning.
Holistic and mindful tools to complement your test prep curriculum
Tests don't just measure what your students know, they also measure how well they take tests.
MindFlow incorporates lessons drawn from yoga, mindfulness meditation, visualization, neuro-linguistic programming and nutrition to help your students regulate their emotions during stressful exams. It helps them get in the 'zone,' remain focused, stay calm and ultimately perform at their best during long tests.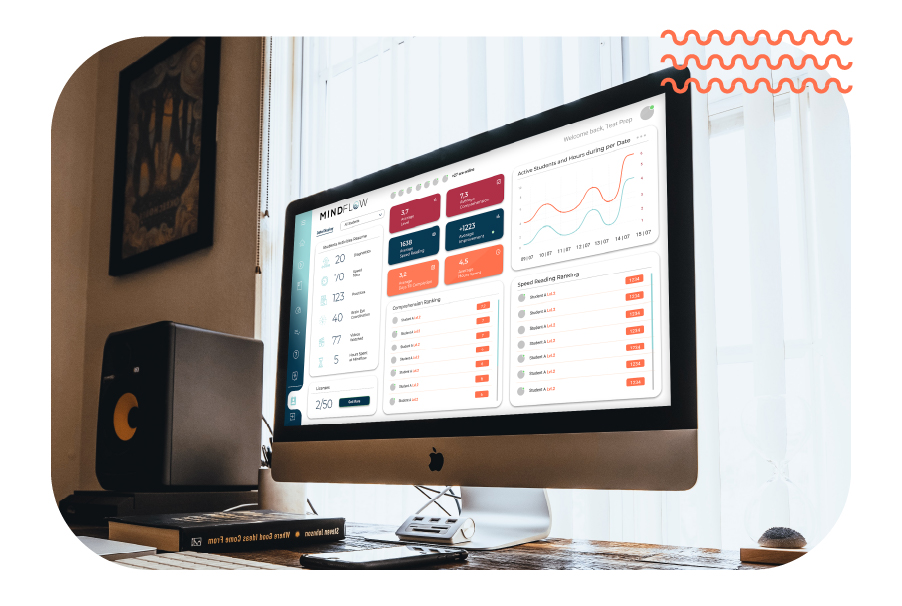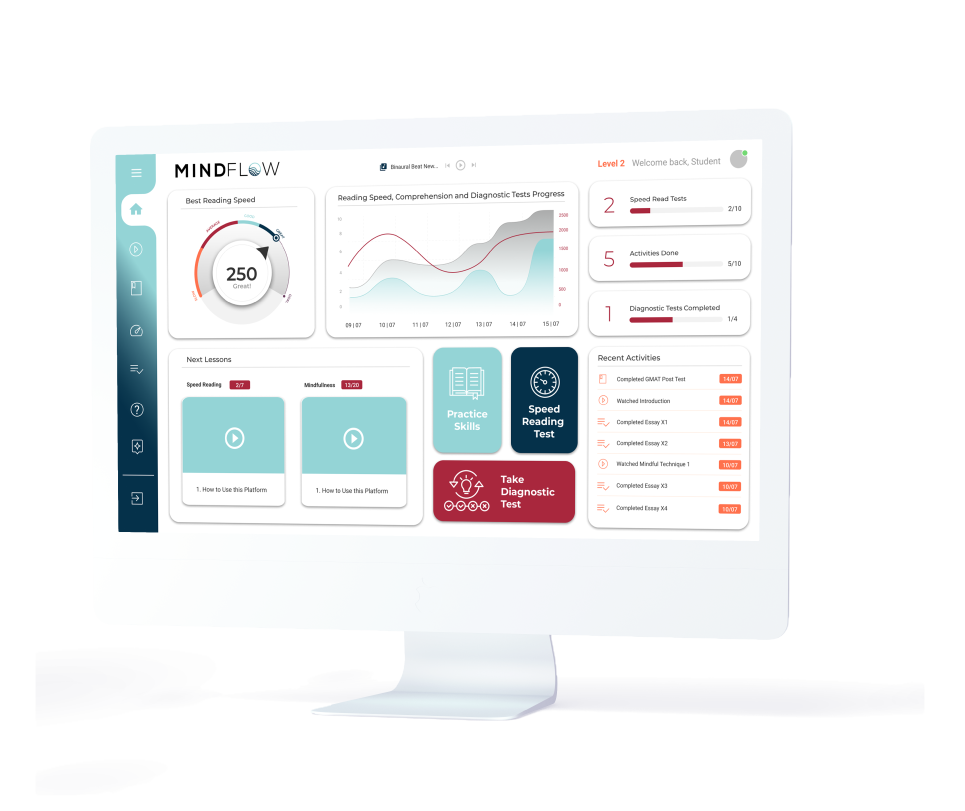 MindFlow features state of the art technology and design
Cloud App Technology MindFlow is built on the latest cloud app technologies so there are no more slow-loading web pages, distracting ads, or confusing browser errors. MindFlow's unparalleled interactive learning platform works flawlessly on any computer or device* and functions on all browsers. *Because admissions tests are only offered on desktops, the practice modules are not mobile friendly.
Login in anywhere, anytime Students can access their account in school, on campus, at home, and on multiple devices. They can log in anywhere. Their account and results are instantly synchronized.
Fast responsive platform Videos, lessons, activities, and apps load instantly and track performance reliably.
Powerful tracking on your dedicated dashboard MindFlow tracks student engagement and progress. All data is updated "live."
100% advertisement free There are no interruptions from ads and pop-ups.
Privacy Student data is inaccessible by third-party ad networks. MindFlow is unable to be breached by ads, and further. We pledge to never show ads or to sell student data to other parties..
An enthusiasm for learning and the reward of life long skills
For Independent Educational Consultants and tutors, whether you work with students in a shorter or longer term capacity, MindFlow inspires them to study more, perform better and meet goals more easily. As students witness themselves improving and accomplishing goals beyond reading faster, they gain ownership of their learning and feel more resourceful.
The platform also succeeds in helping them focus, manage time more effectively, emotionally regulate, self-actualize, and embody a growth mindset. While a great study companion for students taking admissions tests–even the week before their test date–it is also acts as a supportive runway for students in 9th and 10th grade, nurturing perseverance and grit, promoting learning and independent thought, improving self-confidence, and the delight derived from wins of studying smarter, not harder. These aspects of intellectual and emotional development serve your students for a lifetime.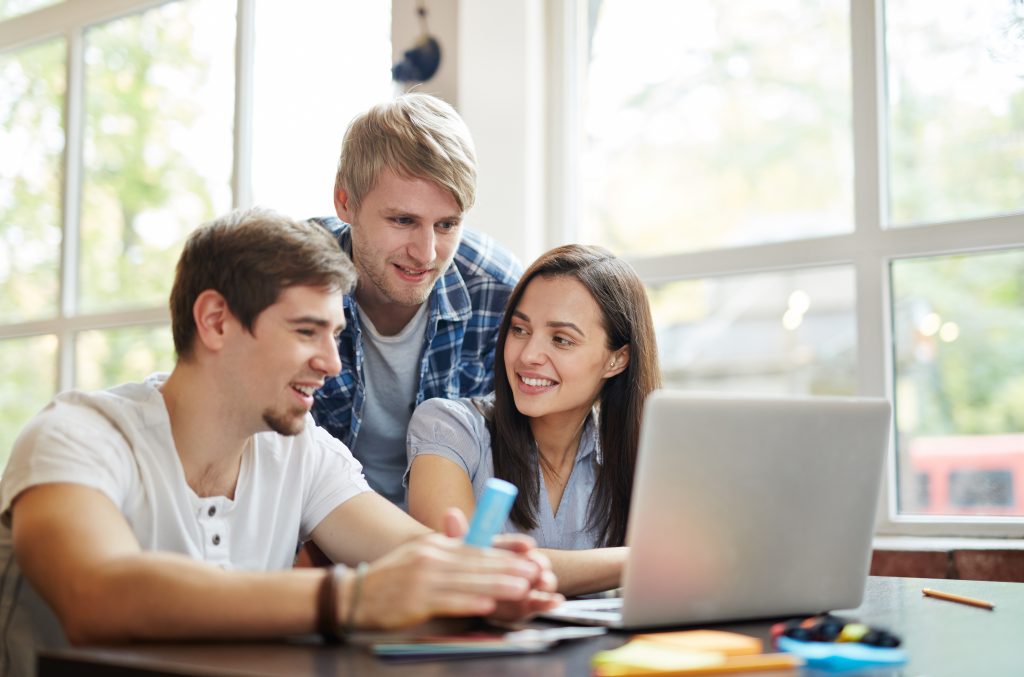 How MindFlow improves your students' rea

d

ing speed and t
est scores
How MindFlow Improves your student's
Reading Speed

and Test scores
The a

dvantages

of MindFlow for your company, school or program
The Advantages of MindFlow Program for your Company, School or Program
Took the MindFlow (speed reading) workshop. This was a fun, fast-paced class that added about 75% to my reading score, with more comprehension. I continue to practice using tools I learned in the class, and some online tools forwarded to me. Bara was fun, is great with kids (my high schooler took the class with me) and a really cool gal. I'd highly recommend that everyone take MindFlow.
My daughter came home ecstatic. She was gushing that the MindFlow workshop gave her an edge in taking the SAT. She said it was worth every penny and more.
I loved this speed reading clinic! I started to incorporate what I learned into my typical reading and it's amazing. I'm reading so much faster, and I feel I comprehend what I read so much better now. Thank you!
After yesterday's class, I read 200 pages of a paperback with the approach you taught me. Then I solved GMAT reading comprehension questions. It was much easier to read and the percent of my correct answers increased. Thank you!
Students and Parents love MindFlow!
The advantages of MindFlow
For Students
Develop time management skills
Add to their test-taking tool box
Increase comprehension
Improve focus, composure and confidence
Have better performance and test scores
Learn life-long skills great for school, work and life
Login anywhere and anytime
For Your Company
Assess user engagement
Track student progress
Increase Client Retention
Add value to your curriculum and current offerings
Increased customer trust and loyalty
Referral growth opportunities
Purchase licenses and extend discount to students or create additional lines of Income
MindFlow's expert guides
Bara Sapir, MindFlow's creator and guide, is an expert trainer in speed reading and coach to eliminate test anxiety.
A leader, with over 30 years of experience in the test preparation landscape, she combines high-performance coaching and personal empowerment with skills-based learning. She is the first in the test prep industry to integrate mindful and holistic techniques, including visualization, hypnosis, MBSR-T, and NLP in in academic, creative and test prep content studies.
She compiled MindFlow's team to include highly-respected professionals in the fields of sound therapy, nutrition and yoga. They provide tools to achieve an optimal mind-body-spirit connection beneficial for any focused task, and especially for studying, taking high stakes admissions tests and professional projects.
Let's work together.
Combining your expertise with MindFlow is a winning formula for your business. Students earn higher test scores and gain the life long skills of faster reading, an improved comprehension and an optimized mindset. Your organization/business benefits with increased customer trust and loyalty, greater client retention and referral growth opportunities for such comprehensive support. It's great for your students and superb for your business.
Contact us at business@mindflowspeedreading for a sample account and to learn about purchasing MindFlow at a discounted rate for resale to your students. MindFlow provides students with an additional tool for success while generating passive income for you.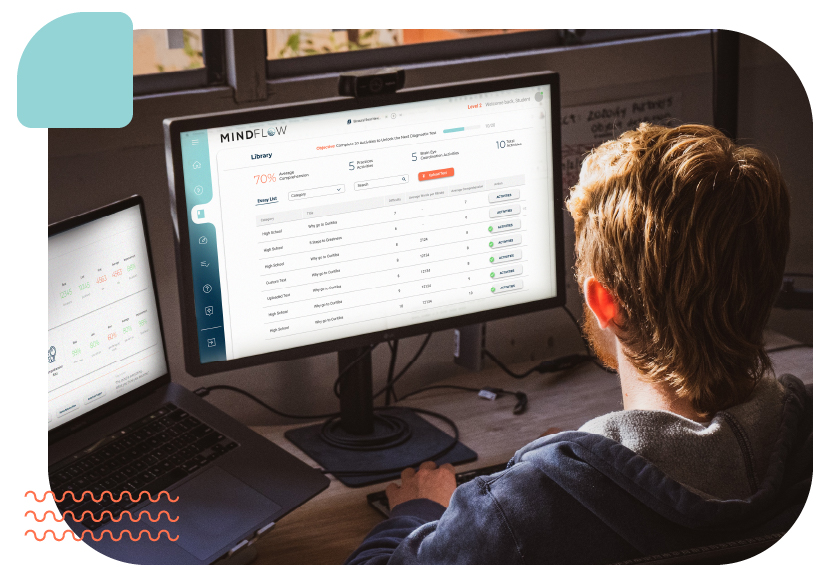 For Businesses
Entire Platform Access from Student Version for each student including:
Speed and Diagnostic Tests
Practice Modules and Mindset Support
Brain-Eye Coordination
Exclusive Video and Animation Content
Gamification UI
Administrative Dashboard to track all student progress
Complete Student Overview
Optional Landing Page